First description of a new uncultured purple sulfur bacterium colonizing marine mangrove sediment in the Caribbean: Halochromatium-like PSB from Guadeloupe
Here, we report the first description of a marine purple sulfur bacterium (PSB) from sulfide-rich sediments of a marine mangrove in the Caribbean. TEM shows that this new isolate contains intracytoplasmic vesicular membrane systems (containing bacteriochlorophyll a) and larger internal sulfur granules, confirmed by EDXS analyses performed using ESEM. The sulfur distribution and mapping obtained for this PSB strain has allowed us to conclude that elemental sulfur is formed as an intermediate oxidation product and stored intracellularly. SEM shows that the bacterial cells are ovoid and extremely motile via lophotrichous flagella. Phylogenetic characterization, based on the analysis of 16S rDNA and functional gene pufM sequences, demonstrate that this strain belongs to the Chromatiaceae and may be a representative of a new species of the genus Halochromatium. Thus, reduced sediments of marine mangrove represent a sulfide-rich environment that sustains the development of Chromatiaceae, in addition to sulfur-oxidizing bacteria and cyanobacteria, as previously reported.
Ce travail décrit une bactérie sulfureuse pourpre marine (PSB) récoltée au niveau des mangroves de bord de mer de la Caraïbe. Des analyses ultrastructurales ont montré que les bactéries sont ovoïdes et possèdent des flagelles de distribution lophotriche. De plus, il existe des systèmes membranaires vésiculaires intra cytoplasmiques (contenant de la bactériochlorophylle a) et des granules internes de soufre identifiés par analyse EDXS à l'aide d'un microscope électronique environnemental. La cartographie du soufre élémentaire montre qu'il est stocké à l'intérieur des cellules bactériennes. La caractérisation phylogénétique, basée sur l'analyse de l'ADNr 16S et du gène de fonction pufM, suggère que cette souche appartient aux Chromatiaceae et pourrait représenter une nouvelle espèce du genre Halochromatium. Ainsi, les sédiments marins réduits de mangrove représentent un environnement riche en sulfures permettant le développement de Chromatiaceae, en plus des bactéries sulfo-oxydantes et des cyanobactéries précédemment décrites.
Fichier principal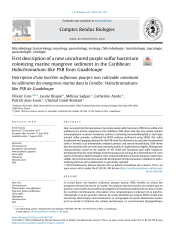 1-s2.0-S1631069118301501-main.pdf (3.02 Mo)
Télécharger le fichier
Origin : Publication funded by an institution