Faire campagne dans Facebook : La passivité des partis «traditionnels» face à la réactivité des partis de plateforme
Over the years, political parties have taken advantage of the resources of social media for their political campaigns. Scholars wondered whether these online practices are part of a normalization process, by reproducing offline balances that are rather favorable to the best-established traditional parties, or whether, on the contrary, they favor an equalization process by allowing more peripheral political movements to be more visible in the public debate. By analyzing how the main French political parties managed Facebook pages (n=1,477) during the 2022 presidential campaign, this article weakens the normalization thesis. The way political parties use social media to manage their political campaigns varies, on the one hand, according to their political orientation and ideology and, on the other hand, according to the organizational model of the party (a "traditional" party or a "platform" party).
Au fil des années, les partis politiques ont cherché à tirer profit des ressources des réseaux sociaux numériques pour faire campagne. Les recherches scientifiques ont alors cherché à comprendre si ces pratiques connectées s'inscrivent dans un processus de normalisation, en venant reproduire les équilibres hors ligne plutôt favorables aux partis traditionnels les mieux implantés, ou si au contraire elles favorisent un processus d'égalisation en permettant aux mouvements politiques plus périphériques d'être plus visibles dans le débat public. En analysant la manière dont les principales communautés partisanes françaises ont animé des pages Facebook (n=1 477) durant la campagne présidentielle de 2022, cet article relativise la thèse de la normalisation. La manière dont les partis s'approprient les plateformes numériques pour animer leur communication politique varie, d'une part, selon leur orientation et leur idéologie politiques et, d'autre part, selon le modèle organisationnel de leur structure partisane (un parti « traditionnel » ou un parti « plateforme »).
Fichier principal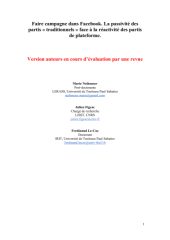 Neihouser_Figeac_Le-Coz.pdf (486.95 Ko)
Télécharger le fichier
Origin : Files produced by the author(s)