Avancées dans les tumeurs cérébrales primitives malignes de l'adulte : quels patients transférer en réanimation médicale?
Recent therapeutic advances have allowed improving prognosis and quality of life of adult patients suffering from malignant primary brain tumors (MPBT), sometimes after a transient medical support in the intensive care unit (ICU). Indeed, patients with MPBT may have, during the course of their neuro-oncological disease, organ failure(s) due to: (i) a destabilization of pre-existing chronic conditions; (ii) an acute pathology unrelated to MPBT; (iii) a complication of MPBT; and/or (iv) complications induced by anti-tumor treatments. The short-term and the long-term benefits of an ICU stay for patients with MPBT are not clearly documented in the literature. A dedicated study, including recent advances in the field of MPBT, would participate to remove the historical brake associated with admission of MPBT patients in ICU. Due to the lack of medical and scientific evidences, admission of MPBT patients in ICU requires a multidisciplinary discussion between the neuro-oncologist, the intensivist, the relatives of the patient and the family of the patient. This discussion will also incorporate patient's advanced directives registered during the first visit, the prognosis and the therapeutic perspectives of the MPBT and the acute affection. Further prospective clinical studies will modulate with higher level of evidence these recommendations.
Les progrès thérapeutiques réalisés ces dernières années ont permis d'améliorer de manière significative le pronostic et la qualité de vie des patients souffrant de tumeurs cérébrales primitives malignes (TCPM), au prix parfois d'une prise en charge transitoire en réanimation médicale. En effet, les patients présentant une TCPM peuvent présenter au cours de leur maladie une défaillance d'organe en rapport avec : (i) une décompensation d'une affection chronique préexistante ; (ii) une pathologie aiguë indépendante de leur TCPM ; (iii) une complication de la TCPM ; et/ou (iv) une complication des traitements de la TCPM. Le bénéfice, immédiat et à long terme, d'un séjour en réanimation pour les patients souffrant spécifiquement de TCPM n'est pas clairement documenté dans la littérature. Une étude dédiée, intégrant notamment les progrès thérapeutiques récents dans la thématique, permettrait de lever le frein historique associé à la prise en charge en réanimation des patients présentant une TCPM. En l'absence de standard de prise en charge médicale, le transfert en réanimation nécessite en effet une discussion collégiale entre le neuro-oncologue, le réanimateur, les proches du patient et la personne de confiance du patient. Cette discussion devra également intégrer les directives anticipées du patient consignées lors de la consultation d'annonce, le pronostic et les perspectives thérapeutiques de la TCPM et de l'affection aiguë. Des études cliniques, idéalement prospectives, permettraient de moduler avec un niveau de preuve supérieur ces recommandations.
Fichier principal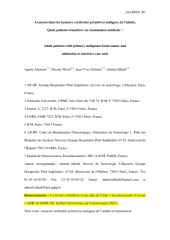 Alentorn_2015_Avancees_dans_les.pdf (436.11 Ko)
Télécharger le fichier
Origin : Files produced by the author(s)