Des effets politiques de la musique : Montesquieu, les Grecs et l'éducation libérale des Modernes
Highlights the political design underlying Montesquieu's analysis of lese majesty. The increasing use of this judicial category has been historically associated with the rise of absolutist power and the attempt, by the king, to stifle freedom of expression. Used as a means to repress not only acts, but also thoughts and subversive writings, this charge became a political weapon. Intending to restrict the scope of the charge (to proved but not suspected acts, nor speeches nor intentions), Montesquieu certainly stands for the nobility, particularly affected by this despotic device. But he also substitutes to the cry for sovereign's majesty another motto: « Society must be defended ».
Les enjeux politiques du traitement du crime de lèse-majesté par Montesquieu. Le recours croissant à cette catégorie juridique a été historiquement solidaire du développement de l'absolutisme et des prétentions du pouvoir monarchique à museler la liberté d'expression. Quand ce chef d'accusation sert à punir non les actes, mais les pensées et les écrits subversifs, il devient une véritable arme politique. En voulant rendre cette inculpation strictement juridique (portant sur des actes avérés mais non présumés, ni sur des paroles ou des intentions), Montesquieu prend certes la défense des nobles qui ont particulièrement été touchés par cet instrument du despotisme. Mais il substitue aussi à une défense de la majesté du souverain un autre mot d'ordre : « Il faut défendre la société ».
Fichier principal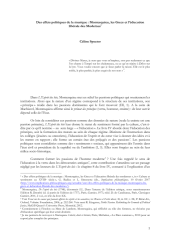 8. Implications philosophique (Spector).pdf (256.64 Ko)
Télécharger le fichier
Origin : Files produced by the author(s)