Hammerhead worms everywhere? Modelling the invasion of bipaliin flatworms in a changing climate
Aim
Alien species introduced into new ecosystems occasionally predate upon or outcompete native species. Land planarians (Geoplanidae) are a family of carnivorous Platyhelminthes among which several species are found outside their native range. Specifically, hammerhead flatworms originate from Asia and Madagascar but have now reached many new locations worldwide through the transport of exotic plants. Because they are predators of earthworms and snails, they are considered a potential threat to native ecosystems. In this context, to anticipate their potential impacts and to inform early preventative actions, it is necessary to know where these species could spread to in future, or where they might already be present but undetected.
Location
Worldwide.
Methods
Here, we used occurrence records from online databases and climatic and soil variables to model the potential distribution of five hammerhead flatworm species (Bipalium adventitium, B. kewense, B. pennsylvanicum, B. vagum and Diversibipalium multilineatum) that are known to occur outside their native range.
Results
We demonstrate that precipitation is an important factor determining their distribution, which is in accordance with their known affinity for humidity. We show that some areas have the potential to be invaded by all five species, including regions that are relatively spared so far. This includes the River Plate basin in South America, which already harbours a diverse fauna of native terrestrial flatworms and which appears to also be a potential hotspot for the establishment of alien hammerhead flatworms. According to scenarios of future climate change, two species (B. kewense and B. vagum) that currently have the largest observed global range are predicted to further increase their potential distribution.
Main conclusions
The results we report can be used to provide guidance for monitoring the potential sources of introduction of alien hammerhead flatworms in regions that are suitable, but which are not yet colonized.
Fichier principal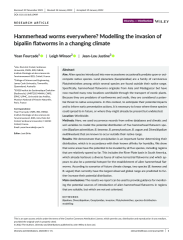 Fourcade_et_al_2022_DiversDistrib.pdf (22.9 Mo)
Télécharger le fichier
Origin : Publisher files allowed on an open archive