Ein literarischer Raum politischer Imagination. Politische Debatten in zwei Revolutionsromanen über die deutsche Revolution (1930)
Literary spaces of political imagination. Political debates in two novels of the German revolution (1930)
Un espace littéraire d'imagination politique. Les débats politiques dans deux romans de la révolution allemande (1930)
Die literarische Gestaltung der revolutionären Ereignisse von 1918-1920 zwang die Schriftsteller zu einer Reflexion über die Darstellung der ideologischen Positionen und die Inszenierung der Debatten zwischen diesen Positionen. Insbesondere die zwischen 1927 und 1932 entstandene zweite Welle dieser "Revolutionsromane", die als Fortsetzung der Kriegsromane der Jahre 1927-1928 konzipiert waren, schufen zwischen der revolutionären Periode, auf die sie sich bezogen, und dem Kontext der Krise der Demokratie, in dem sie veröffentlicht wurden, narrative Räume für politische Experimentierung und Imagination, die diesen Romanen, die zwischen Zeitroman und historischem Roman schwanken, eine uchronische Dimension verliehen. Anhand zweier scheinbar ähnlicher Romane aus dem Jahr 1930 (Frieden von Ernst Glaeser und Nachkrieg von Ludwig Renn) wird hier untersucht, wie ästhetische Entscheidungen unterschiedliche Vorstellungen des politischen Handelns widerspiegeln: Die Apathie und Untätigkeit, die sich aus einer undifferenzierten Darstellung politischer Positionen ergeben (Glaeser), kontrastiert bei Renn mit einer Reflexion über den Zusammenhang von Ideologie, politischer Position und politischem Handeln.
The novelistic shaping of the revolutionary events of 1918-1920 required writers to reflect on the representation of the ideological positions involved and the staging of debates between these positions. In particular, the second wave of these "revolution novels", written between 1927 and 1932 and conceived as a continuation of the war novels of 1927-1928, opened up narrative spaces of political experimentation and imagination between the revolutionary period, to which they referred, and the context of the crisis of democracy, in which they were published. Based on two seemingly similar novels published in 1930 (Ernst Glaeser's Frieden and Ludwig Renn's Nachkrieg), this article illustrates how aesthetic choices express different conceptions of political action: in Glaeser's case, the apathy and inaction resulting from a monolithic presentation of political positions contrast with Renn's reflection on the relationship between ideology, political position and action.
La mise en forme romanesque des événements révolutionnaires de 1918-1920 impose aux écrivains une réflexion sur la représentation des positions idéologiques en présence et la mise en scène des débats entre ces positions. En particulier, la deuxième vague de ces « romans de la révolution », écrits entre 1927 et 1932 et conçus comme la continuation des romans de guerre des années 1927-1928, ouvrent entre la période révolutionnaire, à laquelle ils se réfèrent, et le contexte de crise de la démocratie, dans lequel ils sont publiés, des espaces narratifs d'expérimentation et d'imagination politiques qui donnent à ces romans, qui tiennent à la fois du Zeitroman et du roman historique, une dimension uchronique. À partir de deux romans parus en 1930 (Frieden d'Ernst Glaeser et Nachkrieg de Ludwig Renn) et en apparence similaires, le présent article illustre comment les choix esthétiques conditionnent des conceptions différentes de l'action politique : à l'apathie et à l'inaction qui découlent d'une présentation monolithique des positions politiques (Glaeser) répond, chez Renn, une interrogation sur l'articulation entre idéologie, position et action politiques.
Fichier principal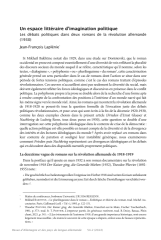 Laplenie - 2022 - Un espace litteraire d imagination politique.pdf (425.59 Ko)
Télécharger le fichier
Origin : Explicit agreement for this submission
Licence : CC BY NC ND - Attribution - NonCommercial - NoDerivatives