L'autre scène dans The Three Birds de Joanna Laurens (2000) : enjeux dramatiques de la réécriture d'un mythe
Joanna Laurens' first play The Three Birds (2000) is a retelling of the Greek myth of Philomela in which language undergoes a poetic treatment unprecedented on the contemporary British stage. Mirroring and enacting the characters' evolution from innocence to barbarism, language is distorted and altered to an extreme through a creative process involving word coinage (i.e. barbarisms), syntactic irregularities, and 'babelisation,' thus bringing out and performing the violence of the myth. Departing from Ovid's poem which is itself a reworking of the original fable, as well as from the feminist takes on the story during the second half of the twentieth century, Laurens' dramatic writing offers a new approach to the language and figure of the Barbarian, a traditional paradigm of the Other. She addresses such issues as the oppression of minorities, the voice of the stranger, and the reversibility of ethical positions by providing a reflection on the intrinsic duplicity of language itself and by exploring its potential for 'metamorphosis' and manipulation, thus presenting otherness as alienation. At the core of the play, which is a rewriting of another (lost) tragedy – that of Sophocles' Tereus –, are Tereus' lies, which are a rewriting of another (taboo) story – that of Philomela's rape and amputated tongue. Although it can't be verbally expressed by the young woman, this traumatic episode is nonetheless revealed through a tapestry she weaves for her sister Procné to denounce the crime of the lying husband, the needlework compensating her lost voice. This article thus looks at the issues at stake in Laurens' rewriting, which can be read as the Other of the Greek myth and its famous feminist interpretations. Not only does her play propose an alternative which stems from an unusual, profoundly humane perspective – the suffering of a man whose love is thwarted – but this reversal is also mirrored in the intradiegetic motif of the tapestry as a writing of the Other (the scene behind the scenes, unheard of) by the Other (the abused, silenced woman). I propose to study how the Other comes to be inscribed at the core of language where it takes shape, rendering it delirious (Deleuze), as humanity can be traced in the Barbarian and barbarism can in turn affect humanity beyond the figure of the Thracian. As the act and language of love are turned into linguistic abuse and physical rape, Laurens' formal experimentations, where language and the Other of language meet at the crossroad of their own contradictions, allow for a renewal in the meaning of the Greek myth as well as in the dramatic language on the British stage at the start of the twenty-first century.
La première pièce de Joanna Laurens, The Three Birds, (2000) propose une révision dramatique du mythe grec de Philomèle qui s'inscrit en contrepoint de la fable telle qu'elle est relatée dans les Métamorphoses d'Ovide. Le rapport à la langue et à la figure du barbare, paradigme de l'Autre, engage une réflexion sur la question des minorités, la voix de l'étranger et l'idée d'une réversibilité des postures. Barbarismes, irrégularités syntaxiques, « babélisation » font ici violence au langage ainsi qu'aux différentes langues parlées dans la pièce qui s'altèrent et se barbarisent à l'image des personnages, incarnant ainsi dans la chair du verbe la mutilation de la langue qui fait la matière cruelle du mythe. Au coeur de la pièce, elle-même réécriture d'une autre pièce-celle, perdue, du Térée de Sophocle-on retrouve en effet l'écriture d'une autre scènecelle, tabou, du viol et de l'amputation de la langue de Philomèle-qui, à défaut de pouvoir se dire, vient s'écrire sur la tapisserie que brode la jeune fille à l'attention de sa soeur pour révéler le crime étouffé par les mensonges en cascades de Térée en même temps qu'elle se reflète dans la trituration du langage. Cet article s'intéressera donc aux enjeux de la réécriture en tant que mise en place d'une alternative fondamentale à partir d'une perspective neuve-celle du barbare amoureux, ou plutôt de la barbarie de l'amour impossible-qui se reflète dans le motif intradiégétique de l'activité de tissage en tant qu'écriture de « l'Autre » (réécriture par l'Autre, la femme, de l'autre scène ou de l'autre pièce, qui ne peut être dite). Avec la duplicité intrinsèque du langage et l'exploration de son potentiel de transformation, nous verrons dès lors comment l'altérité se donne plutôt à voir comme altération, voire aliénation, jusqu'au creux de la langue où elle prend naissance pour la faire délirer (Deleuze). Le langage de la pièce reflète ainsi la façon dont l'humain vient faire trace dans la langue du barbare et montre comment, par-delà l'humanisation du Thrace, la barbarie vient à son tour réinvestir l'humain et marquer de son empreinte l'acte et le langage d'amour devenus viols. En déroulant à l'extrême le fil ténu qui sépare humanité et barbarie, les expérimentations poétiques de Laurens, où le langage et « l'autre » du langage se rencontrent dans leurs contradictions-mêmes, permettent ainsi de renouveler le sens du mythe grec autant que le langage dramatique sur la scène théâtrale à l'aube du vingt-et-unième siècle.
Fichier principal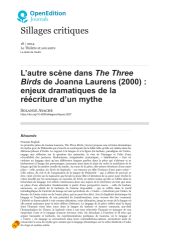 S. AYACHE L'autre scène dans The Three Birds de Joanna Laurens (2000) - enjeux dramatiques de la réécriture d'un mythe.pdf (559.23 Ko)
Télécharger le fichier
Origin : Publisher files allowed on an open archive
Licence : CC BY NC ND - Attribution - NonCommercial - NoDerivatives