Signaler le mensonge dans le Roman de Renart. Jeux et enjeux stylistiques
The Roman de Renart, a work whose date of composition (1175-1250) coincides more or less with that of an intense reflection on the sins of language (1190-1260), contains many lies. It is surprising, however, that the storytellers introduce a discrepancy between the frequent representation of words that contravene the criterion of truth in the dialogues and the rare use of meta-discursive terms falling under the morphological paradigm of lying. Cultivating a form of ambiguity, the dialogues privilege other terms which, absent from the normative texts, attenuate the moral significance of the statements. Far from being limited to a lexical investigation, this article is more globally interested in the various euphemization processes which, while avoiding naming the deviance, make it possible to indicate its existence.
Le Roman de Renart, œuvre dont la date de composition (1175-1250) coïncide peu ou prou avec celle d'une intense réflexion sur les péchés de la langue (1190-1260), comporte de très nombreux mensonges. On s'étonne toutefois du décalage qu'introduisent les conteurs entre la représentation fréquente de paroles qui, dans les dialogues, contreviennent au critère de vérité et l'usage rarissime de termes méta-discursifs relevant du paradigme morphologique de mentir. Cultivant une forme d'ambiguïté, les dialogues privilégient d'autres vocables qui, absents des textes normatifs, atténuent la portée morale des énoncés. Loin d'être circonscrit à une enquête lexicale, cet article s'intéresse plus globalement aux divers procédés d'euphémisation qui, tout en évitant de nommer la déviance, permettent d'en signaler l'existence.
Fichier principal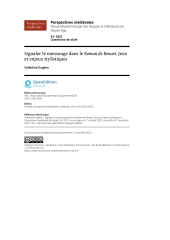 article pdf perspectives médiévales signaler le mensonge.pdf (291.22 Ko)
Télécharger le fichier
Origin : Files produced by the author(s)