Multi-Electron Visible Light Photoaccumulation on a Dipyridylamine Copper(II)–Polyoxometalate Conjugate Applied to Photocatalytic Generation of CF 3 Radicals
This article describes the synthesis and characterization of an organic–inorganic hybrid polyoxometalate functionalized by a short link with a tripodal N-based ligand and its copper complex. Upon visible light irradiation, the latter is able to store up to three reducing equivalents. The locus of the reduction is discussed based on physicochemical measurements and DFT calculations. In the presence of Togni's reagent, this complex allows for the photocatalytic generation of CF3 radicals, opening the road to valuable synthetic applications.
Cet article décrit la synthèse et la caractérisation d'un hybride organique-inorganique de polyoxométalate fonctionnalisé par un lien court avec un ligand tripodal azoté et son complexe de cuivre. Sous irradiation dans le visible, ce dernier est capable de stocker jusqu'à trois équivalents réducteurs. Le lieu de la réduction est discuté sur la base de mesures physicochimiques et de calculs DFT. En présence du réactif de Togni, ce complexe permet la génération photocatalytique de radicaux CF3, ouvrant la voie à diverses applications en synthèse.
Fichier principal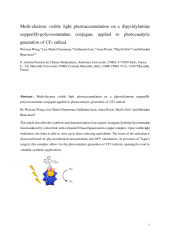 AcceptedManuscript_JACS2023_HAL_BlanchardS.pdf (474.42 Ko)
Télécharger le fichier
Origin : Files produced by the author(s)