Study of the mechanism of electrolytic codeposition of inert particles with metals
Contribution à l'étude du mécanisme d'incorporation de particules solides dans un dépôt électrolytique.
This study focuses on the electrochemical preparation of metal/ceramic composite coatings such as ni-sic, already used as wear protection. The process by which the suspended particles are incorporated into the metal during growth is generally attributed to a phenomenon of adsorption. The various electrochemical investigation methods have not demonstrated this adsorption. They show that the particles do not disrupt the kinetics of nickel crystallization. The spectral measurement of electrochemical noise made it possible to detect the presence of these at the interface.
Cette etude s'interesse a l'elaboration par voie electrochimique des revetements composites metal/ceramique tels que le ni-sic, deja utilise comme protection anti-usure. Le processus par lequel les particules mises en suspension viennent s'incorporer dans le metal en cours de croissance est generalement attribue a un phenomene d'adsorption. Les diverses methodes d'investigation electrochimique n'ont pas mis en evidence cette adsorption. Elles montrent que les particules ne perturbent pas la cinetique de cristallisation du nickel. La mesure spectrale du bruit electrochimique a permis de detecter la presence de celles-ci a l'interface.
Fichier principal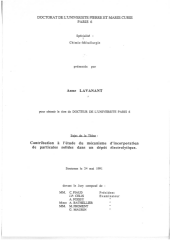 Thèse Lavanant A_1991.pdf (45.27 Mo)
Télécharger le fichier
Origin : Files produced by the author(s)
Licence : CC BY - Attribution