Achieving sustainable conservation in Madagascar: The case of the newly established Ibity Mountain Protected Area
Globally, the number of protected areas (PAs) has increased exponentially during the last 25 years, particularly in biodiversity-rich developing countries. Many recent initiatives have integrated local-scale socioeconomic development into both design and management. Because the rates of deforestation and species extinction are increasing in most parts of the world, substantial efforts have been made to build and strengthen local environmental organizations, to establish new protected areas (NPAs), and to improve natural resource management. An NPA was recently established at Ibity Massif in central Madagascar, where a community-based conservation project is being coordinated by the Missouri Botanical Garden (MBG). In December 2008, a temporary protection order was issued, and definitive establishment of the NPA, which falls under Category V of the IUCN PA system, is expected before the end of 2015. This initiative has involved significant outreach and community education programs to raise awareness of Ibity's conservation and economic importance and the threats to its biodiversity, along with ongoing efforts to reduce fire frequency and implement ecological restoration projects with significant local community participation. In order to ensure the sustainability of this NPA, a co-management plan has been implemented involving MBG, local authorities, and the local population. This study describes the diagnostic process undertaken at Ibity in order to: 1) disseminate the data gathered to inform establishment of the NPA; and 2) summarize the initial state of the environment on the massif prior to the implementation of a management plan, as a baseline for assessing the NPA's effectiveness.
Globalement, le nombre d'aires protégées (AP) a augmenté de façon exponentielle au cours des 25 dernières années, en particulier dans les pays en développement plus riches en biodiversité. De nombreuses initiatives récentes ont intégré le développement socio-économique à l'échelle locale dans sa conception et gestion. Etant donné que les taux de déforestation et d'extinction des espèces sont en augmentation dans la plupart des régions du monde, des efforts considérables ont été faits pour construire et renforcer les organisations locales de l'environnement, pour créer de nouvelles aires protégées, et pour améliorer la gestion des ressources naturelles. Une nouvelle AP est actuellement mise en place dans le massif d'Ibity, dans les haut-plateaux au centre de Madagascar, où un projet de conservation basé dans la participation communautaire est coordonné par le Missouri Botanical Garden (MBG). En Décembre 2008, un arrêté temporaire de protection a été délivré et la mise en place définitive de la nouvelle AP qui est classé dans la catégorie V selon le système des aires protégées de l'UICN est attendue avant la fin de 2015. Cette initiative a impliqué un programme de vulgarisation et d'éducation à la communauté centré sur la sensibilisation de la conservation de la diversité d'Ibity et de l'importance économique, les menaces qui pèsent sur la biodiversité, et les efforts en cours pour réduire la fréquence des feux et la mise en oeuvre des projets de restauration écologique avec une importante participation de la communauté locale. Afin d'assurer la durabilité de cet AP, un plan de co-gestion a été mis en place impliquant MBG, les autorités locales et la population locale. Cette étude documente et synthétise le processus de diagnostic entrepris à Ibity afin de: 1) faciliter la diffusion des données recueillies afin d'informer l'établissement de la nouvelle AP; 2) résumer l'état initial de l'environnement sur le massif avant la mise en oeuvre d'un plan de gestion et d'établir ainsi une base de référence qui peut être utilisée pour évaluer l'efficacité des nouvelles AP.
Fichier principal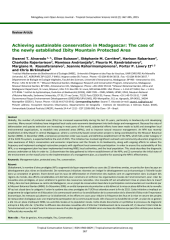 tcs_v8i2_367-395_Swanni.pdf (1.3 Mo)
Télécharger le fichier
Origin : Publication funded by an institution