Representations and cultural change: the literary website Zenda: autores, libros y cía. and the debate around the surpassing of Postmodernity
Representaciones y cambio cultural. La web literaria Zenda: autores, libros y cía. dentro del debate sobre la superación de la posmodernidad
Représentations et changement culturel. Le site littéraire Zenda : autores, libros y cía. dans le cadre du débat sur le dépassement de la post-modernité.
This paper aims to analyze the reception of Zenda: Autores, libros y cía. (on-line literary website founded in April 2016 by a group of Spanish writers) among the internet users, not in order to place it in relation to the cultural journalism, but rather to identify possible types of representation from a cultural change perspective. In this sense, we will apply recent Anglo-Saxon theories that point to the surpassing of postmodernity. Using the analysis of recent cultural and socioeconomic phenomena, the mechanisms of the publishing world and the survey made among the internet-users, we will identify three possible representations of Zenda: a postmodern one defined by heterogeneity and antielitism, the second one inspired by the positive and humanistic values of the new episteme that seeks to suppress the mediation in order to gain a closer access to things (authenticity, independence, accessibility, hospitality) and, finally, a representation based on the simulacra of these values, assimilated and denaturalized by the capitalism logic that is still reigning.
El artículo se propone analizar la recepción de Zenda: Autores, libros y cía. (web literaria fundada en abril 2016 por un grupo de escritores españoles) entre los internautas, no tanto para situarla dentro del periodismo cultural, sino para identificar tipos de representaciones posibles desde el cambio cultural. Se aplicarán en este sentido las recientes teorías anglosajonas que apuntan hacia la superación de lanposmodernidad. Apoyándonos en el análisis de fenómenos culturales y socioeconómicos recientes, los mecanismos del mundo editorial y una encuesta hecha entre los internautas, identificaremos tres representaciones posibles de Zenda: una posmoderna, definida por la heterogeneidad y el antielitismo; la segunda nacida de valores positivos y humanistas propios de una nueva episteme que pretende suprimir la mediación para acceder más de cerca a las cosas (autenticidad, independencia, accesibilidad, hospitalidad); por último, una representación basada en los simulacros de estos valores, asimilados y desvirtuados por la lógica capitalista que sigue gobernando.
Cet article vise à analyser la réception de Zenda : Autores, libros y cía. (site littéraire fondé en avril 2016 par un groupe d'écrivains espagnols) auprès des internautes, non pas tant pour le situer dans le cadre du journalisme culturel, mais pour identifier des types de représentations possibles dans la perspective du changement culturel. Les récentes théories anglo-saxonnes, qui pointent vers le dépassement de la post-modernité, seront appliquées dans ce sens. Sur la base de l'analyse des phénomènes culturels et socio-économiques récents, des mécanismes du monde de l'édition et d'une enquête auprès des internautes, nous identifierons trois représentations possibles de Zenda : une post-moderne, définie par l'hétérogénéité et l'anti-élitisme ; une seconde née de valeurs positives et humanistes, caractéristiques d'un nouvel épistème qui vise à éliminer la médiation pour accéder de plus près aux choses (authenticité, indépendance, accessibilité, hospitalité) ; enfin, une représentation basée sur le simulacre de ces valeurs, assimilées et déformées par la logique capitaliste qui continue de régner.
Fichier principal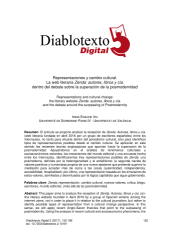 representaciones y cambio cultural. zenda y superación de la pm. artículo publicado en diablotexto.pdf (419.87 Ko)
Télécharger le fichier
Origin : Publisher files allowed on an open archive
Licence : CC BY NC ND - Attribution - NonCommercial - NoDerivatives