3D extension of Tensorial Polar Decomposition. Application to (photo-)elasticity tensors
The orthogonalized harmonic decomposition of symmetric fourth-order tensors (i.e. having major and minor indicial symmetries, such as elasticity tensors) is completed by a representation of harmonic fourth-order tensors HH by means of two second-order harmonic (symmetric deviatoric) tensors only. A similar decomposition is obtained for non-symmetric tensors (i.e. having minor indicial symmetry only, such as photo-elasticity tensors or elasto-plasticity tangent operators) introducing a fourth-order major antisymmetric traceless tensor ZZ. The tensor ZZ is represented by means of one harmonic second-order tensor and one antisymmetric second-order tensor only. Representations of totally symmetric (rari-constant), symmetric and major antisymmetric fourth-order tensors are simple particular cases of the proposed general representation. Closed-form expressions for tensor decomposition are given in the monoclinic case. Practical applications to elasticity and photo-elasticity monoclinic tensors are finally presented.
La décomposition harmonique orthogonalisée des tenseurs symétriques d'ordre quatre (ayant les symétries majeures et mineures, tels que le tenseur d'élasticité) est complétée par une représentation des tenseurs harmoniques d'ordre quatre HH à l'aide de deux tenseurs harmoniques (symétriques déviatoriques) d'ordre deux. Une décomposition similaire est obtenue pour les tenseurs non symétriques (ayant uniquement la symétrie mineure, tels que ceux rencontrés en photo-élasticité et en élasto-plasticité), introduisant un tenseur antisymétrique majeur à traces nulles ZZ. Le tenseur ZZ est représenté par deux tenseurs d'ordre deux, le premier harmonique et le second antisymétrique. Les représentations des tenseurs d'ordre quatre complètement symétriques (rari-constants), symétriques et antisymétriques majeurs sont des cas particuliers simples de la représentation proposée. Les expressions analytiques de la décomposition correspondante dans le cas monoclinique sont obtenues et appliquées à l'élasticité et à la photo-élasticité monocliniques.
Fichier principal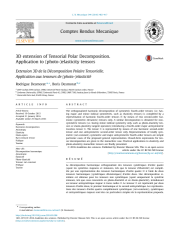 1-s2.0-S1631072116000085-main.pdf (455.87 Ko)
Télécharger le fichier
Origin : Publication funded by an institution