« Du réalisme comme objection : Balzac, avril 1830 »
Balzacian realism, in the way it invents itself in the six 1830 "Scènes de la vie privée", is nomore on the side of classical "imitation" than it is on that of mimetic photography. It owes its existence, paradoxically, to mixed signals : to the complexity which the world of the senses, things and beings confront characters with. Their optical illusions, blindness, mistakes, dramatized and deplored in each narrative exemplum, are due to this massive "objection". But it is from this objection that the novelist, like a judoka, brings forth his sovereignty as painter and analyst. A surprising side-road is thus taken, whereby the source of all ills becomes the object of knowledge ! This paper aims at describing this turning point and its narrative fruitfulness in order to render anew its logic and its freshness.
Tel qu'il s'invente dans les six "Scènes de la vie privée" de 1830, le réalisme balzacien n'est pas plus situé du côté de l'« imitation » classique que d'une mimesis photographique. Il doit son existence, paradoxalement, au brouillage des signes : à la complexité que le monde sensible, les choses et les êtres opposent aux personnages. Leurs illusions d'optique, leurs aveuglements et leurs fourvoiements, dramatisés et déplorés dans chaque exemplum, tiennent à cette « objection » massive. Mais c'est d'elle que le romancier, tel un judoka, retire sa souveraineté de peintre et d'analyste. Étonnant chemin de traverse, voyant la cause de tous les maux se transformer en objet de connaissance ! La présente contribution vise à décrire ce point de bascule, narrativement fécond, pour lui rendre sa nécessité et sa fraîcheur premières.
Fichier principal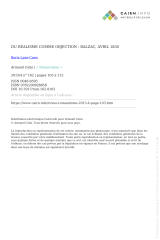 Du réalisme comme objection.pdf (510.22 Ko)
Télécharger le fichier
Origin : Files produced by the author(s)