El secreto y el crimen en el cuento pardobazaniano: La historia de una evolución
Every prolix author writes about secret. For instance, in Doña Emilia's naturalist novels, for example, incestuous relationships show up the author's active interest in this theme. In this article, we will deal with the links between crime and secret written by countess of Pardo Bazán. Firstly, we will demonstrate how in the early 20th century the writer has progressively left aside the bloody short stories to create some of the first detective short stories in Spain. Then, we will lay the emphasis on the very frequent crime secret found in this new way of writing. We'll study the secret in some short stories by making use of psychoanalytical theories, which will be very useful. Indeed, psychoanalytical contribution will allow us to reveal phantasies that are detectable throughout other short stories, not necessarily belonging to detective genre.
Todos los autores prolijos han escrito sobre el secreto. En las novelas naturalistas de Emilia Pardo Bazán son sin duda las relaciones incestuosas apenas veladas las que han hecho de Los pazos de Ulloa y La Madre Naturaleza dos clásicos estudiados tanto en España como en Francia. En este artículo, nos interrogaremos acerca de las relaciones que unen el crimen y el secreto en los cuentos escritos por la condesa de Pardo Bazán. Nos centraremos en las transformaciones, a principios del siglo XX, que han llevado a doña Emilia a abandonar paulatinamente el cuento sangriento para crear unos de los primeros cuentos policiacos en España. En esta nueva manera de escribir el crimen, el secreto ocupará un lugar destacado. Estudiaremos el secreto en algunos relatos breves valiéndonos de las teorías psicoanalíticas con el fin de revelar fantasmas que aparecerán en otros cuentos, pertenezcan éstos o no, al género de lo policiaco.
Tout auteur prolixe s'adonne à l'écriture du secret. Dans les romans naturalistes de doña Emilia se sont d'ailleurs sans doute les relations incestueuses à peine cachées, puis révélées, qui ont élevé Los pazos de Ulloa et La Madre Naturaleza au rang de classiques. Dans ce travail, nous nous interrogerons sur les relations qui unissent le crime et le secret dans les récits courts de la comtesse de Pardo Bazán. Nous nous intéresserons aux transformations qui, au début du XXe siècle, ont poussé l'écrivain à délaisser quelque peu le conte sanglant au profit de récits qui figurent parmi les premières tentatives du genre policier en Espagne. Dans les narrations qui appartiennent à ce que nous serions tentés de considérer comme une nouvelle manière, l'auteur fit du secret un point nodal. Nous tenterons, au fil de cet article, de souligner cette évolution et de percer le secret qui semble se répéter dans plusieurs récits courts d'Emilia Pardo Bazán en nous appuyant sur les apports de la psychanalyse.
Fichier principal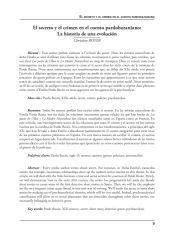 001-02.pdf (174.99 Ko)
Télécharger le fichier
Origin : Explicit agreement for this submission