"Le théâtre baroque du corps démembré dans "The Duchess of Malfi""
The Duchess of Malfi teems with images of dismembered bodies which form the basis of Webster's specific macabre poetics. The play is haunted by body parts, at the levels of both plot and imagery. This peculiar aesthetics can be seen as a symptom of a worldview in crisis, in which the correspondences and analogies that had held the world together until then have ceased to operate—as the metaphor of an organic political body no longer holds the society together and the age-old analogy between the microcosm of the human body and the macrocosm of the cosmos no longer signifies the unity of the created universe. The metaphorical coherence of the play lies in the dissemination throughout the text of these signifiers of the dismembered body. Webster plays on the over-determination of these images, as the text consistently draws attention to these repetitions; the words used to designate body parts become unstable, potentially proleptic signs pointing to imminent death and foreshadowing the sudden appearance of actual, dismembered bodies. This article deals with this « expressionistic » poetic, which emphasises its effects in an artificial, often metaliterary manner through various strategies of highlighting. As will be apparent here, the text self-consciously draws attention to the way it re-motivates images by literalizing commonplaces and ossified metaphors in a macabre poetic of excess.
The Duchess of Malfi est saturée d'images de corps démembrés qui constituent l'essence même de l'imaginaire poétique de Webster et de sa poétique macabre. Ce retour qu'on pourrait qualifier de hantise du corps en morceaux dans l'intrigue comme dans la texture poétique peut se lire comme un symptôme d'une épistémè en crise, où les liens et similitudes qui tenaient encore ensemble l'ordre du monde ont cessé d'être opérants : un monde où la métaphore d'un corps politique organique a cessé d'avoir cours, et où l'analogie entre le microcosme du corps humain et le macrocosme du cosmos a perdu son pouvoir symbolique de signifier l'unité profonde de la création par l'enchâssement des ressemblances. La cohérence métaphorique de la pièce tient à la dissémination dans le texte de ces signifiants corporels du corps démembré. En résulte une sur-sémantisation, lorsque que le texte attire l'attention sur ses répétitions, tandis que les mots pour désigner les parties du corps deviennent signes polysémiques et toujours potentiellement proleptiques, pointant obstinément vers l'imminence de la mort et le surgissement du corps supplicié. Cet article s'intéresse aux ressorts de cette poétique « expressionniste », dont les effets sont parfois soulignés avec outrance par le biais de divers procédés. Le texte attire l'attention sur son propre travail de remotivation d'images qui relèvent souvent du lieu commun, voire de l'image figée.
Fichier principal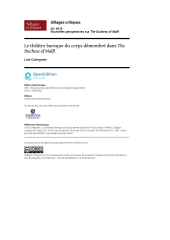 sillagescritiques-6641.pdf (648.11 Ko)
Télécharger le fichier
Origin : Publisher files allowed on an open archive